Caldwell, Kansas

category : Railroad History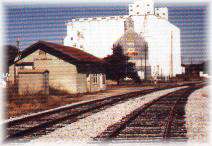 The Santa Fe Railroad was the first railroad that came into Caldwell. Traces of the pens are still visible as well as the roundhouse.
Come visit us in Caldwell, Kansas
---
More Railroad History near Caldwell, Kansas
---
Caldwell Railroads Related Videos
Train wreck that happened sometime in the 1990's I believe, in Caldwell, KS.
A shortline railroad in Medicine Lodge, KS.
portable rock crushing fredonia kansas, Links: http://goo.gl/N1nfWU (Hot!!!) Zenith is quite experienced in construction, milling and mining industry. Requir...
More than 15 dogs were found chained on a patch of land in rural Caldwell County. A hunter told KMBC about the dogs. Pictures from NewsChopper 9 show the dog...
Alexander Railroad Co Alco S3 #6 switching in statesville. July 29, 2008.
CSX Q302-13 approaches White Sulphur Springs, WV with a GE CW60AC leading two EMD SD60s.