category : Battlesites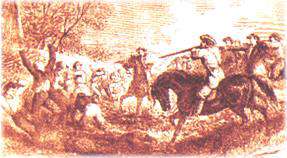 The historic site tells of the bloodiest episode in the "Bleeding Kansas" period. On May 19, 1858, 30 pro-slavery men crossed the Kansas border south of the Marais des Cygnes River. They rounded up 11 local free-state men and marched them to a ravine near the Missouri border. There, they opened fire on the unarmed prisoners, killing five and wounding five other. One man escaped being shot by falling to the ground and playing dead. The famous abolitionist, John Brown, began construction of a fort near the ravine a few weeks after the massacre.

Hours: May to October, 10:00 am to 5:00 pm, Wednesday through Saturday, 1:00 to 5:00 pm on Sunday
Address: Five and one-half miles northeast of Trading Post, Hwy 69
Phone: 913-352-6174
Closed Mondays, Tuesdays, major holidays, and Wednesdays from October through April.
Outdoor viewing 24 hours.
Come visit us in La Cygne, Kansas