category : Historic Mills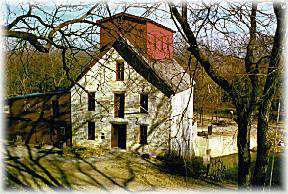 The Old Mill was built in 1874 by D.N. Cook and John Hewitt. A 3 mile race was hand-dug parallel to the Arkansas River which produced the electricity necessary to run the mill. A dam was built across the river to help the mill grow. In 1910, Charles Champeny bought the mill in which he worked until he passed away. The mill's flour and cornmeal supported the slogan "Oxford's Best."
The Old Mill has since been restored by Hal Ross for the Champenys. The "new" mill was built in 1935 and now produces birdseed and conducts mill tours.
Although no longer a water-powered flour mill, the mill is opened to the public and houses a restaurant and gift shop.

Address: 170 N. Old Mill Rd.
Phone: 620-455-3456

Come visit us in Oxford, Kansas