category : Historic Churches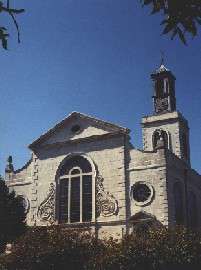 Twice destroyed by fire, the Church of St. Mary the Virgin, Aldermanbury, is part of the Winston Churchill Memorial. The Church, which dates from the 12th century, was redesigned by Sir Christopher Wren in 1677, after the Great Fire of London. Nearly three centuries later a German incendiary bomb left it in ruin. Slated for demolition, Wren's graceful masterpiece was saved by a bold idea. The structure would be rebuilt on the campus of Westminster College as a permanent reminder of Churchill's visit to the college and his prophetic speech. Stone by stone, architects and craftsmen dismantled the Church and painstakingly reconstructed it again at its present site. Today visitors from around the world may enter Wren's beautiful, light-filled sanctuary.

Admission: Adults - $6.00; Seniors AAA, AARP - $5.00; College Students $4.00; Ages 6-11 - $3.00; Under 5 Free
Hours: 10:00 a.m.– 4:30 p.m. daily, except for Thanksgiving, Christmas & New Year's Days
Address: 501 Westminster Ave.
Phone: 573-592-5369
Our Website:www.wcmo.edu/cm/

Come visit us in Fulton, Missouri
Beautifully restored, Historic (1853) church, built in English-Gothic style architecture. Tours, concerts, weekly 10 a.m. Sun...