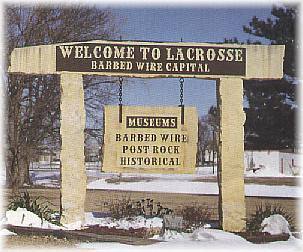 LaCrosse is known throughout the nation as the 'Barbed Wire Capital of the World' and hosts the Annual Barbed Wire Convention every spring. The Barbed Wire Museum, The Post Rock Museum, The Rush County Historical Museum, and a plaque honoring Howard R. Barnard (1863-1948), pioneer educator, founder of consolidated schools, and the school bus system, are located in Grass Park (the old Varney homestead) at the south side of town.
"LaCrosse was filed in 1876 as an original town site by the Missouri-Pacific Railroad when Rush County was re-surveyed two years after it was organized, making this location the exact center of the county. The land belonged to patentee and surveyor, Denman A. Stubbs, and wife, Ellen Jewell Stubbs, who came from Wisconsin and settled in 1874. These early settlers were the first developers of LaCrosse. Lots in the town were soon sold to young men, mostly members of the Society of Friends, from Pennsylvania, New York, New Jersey, Ohio, Illinois, Wisconsin, and Eastern Kansas.
The county offices were moved to LaCrosse from Rush Center in 1876, much to the dismay of Rush Center's citizens, and (usually) occupied the second story of a stone building on the west side of Main Street, with the court in a small frame building next door. The present court house was built in 1888 and became the permanent home of the county offices. This building is now listed on the National Register of Historic Buildings.
The first LaCrosse school was erected in 1877. The earliest churches in LaCrosse were The United Brethren Church, first known as The LaCrosse Meeting of The Society of Friends, established in 1877; The Christian Church, established in 1887; and The Methodist Church.
- Rush County Historical Society
La Crosse Kansas Related Videos
Not For Re-Broadcast**- Our 4th official chase day of the 2012 season was a success! On this day we witnessed and documented multiple tornadoes near the to...
By: tornadovideostock
Duration: 4.20
min.
Views: 5622
Rating: 4.923077
While storm chasing in La Crosse, Kansas I found this Massive Nocturnal Tornado. The town of La Crosse has damage on the south side of Town. For License cont...
By: jeromycarter
Duration: 2.32
min.
Views: 3443
Rating: 5.0
Filmed at the tornado formed.
By: Stuart Robinson
Duration: 10.97
min.
Views: 1304
Rating: 5.0
With a 5% Tornado risk across Kansas, Jeff and Kathryn Piotrowski head out into Kansas and capture a stunning supercell, an elephant trunk tornado at dusk wi...
By: TornadoAlleyVideo
Duration: 1.15
min.
Views: 1725
Rating: 4.529412
Shot #1 is a large cone tornado west of Lacrosse, KS Shot #2 is another shot of the tornado west of Lacrosse, KS Shot #3 is the same tornado WNW of Lacrosse,...
By: bnvn1
Duration: 1.17
min.
Views: 2380
Rating: 4.714286
La Crosse, Kansas tornado 5-25-12 Extreme Chase Tours and guests intercept and film tornadoes in and near La Crosse Kansas, callin in reports to media and th...
By: ExtremeChaseTours
Duration: 2.15
min.
Views: 412
Rating: 5.0
B-Roll footage from Brandon Sullivan with the Tornado Titans chase team of the hail storm that hit the La Crosse, Kansas area Sunday afternoon with golf ball...
By: bnvn1
Duration: 1.27
min.
Views: 2107
Rating: 4.478261
Season One, Episode Five: Dave and Scott intercept multiple tornadoes near the town of La Crosse, KS- May 25th, 2012 *Not For Re-Broadcast*
By: tornadovideostock
Duration: 11.10
min.
Views: 19608
Rating: 4.7557254
NOT FOR BROADCAST - LICENSING AVAILABLE*** STORM CHASER TONY LAUBACH www.tornadoeskick.com www.facebook.com/TonyLaubach VIDEO DESCRIPTION Video of damage ...
By: Tony Laubach
Duration: 2.20
min.
Views: 342
Rating: 0
http://www.facebook.com/tornadotitans Chris Sanner, Brandon Goforth, and James Foster shot these tornadoes near Lacrosse, KS shortly after dusk. Two of our 7...
By: Chris Sanner
Duration: 1.17
min.
Views: 4610
Rating: 5.0