category : Structural Landmarks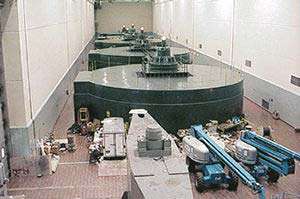 Garrison Dam, one of five dams on the Missouri River was responsible for the creation of Lake Sakakawea, the third largest man-made lake in the United States. Garrison Dam is the fifth largest dam in the United States, with five hydropower generating units in the powerhouse. The dam produces enough electricity to supply the electrical needs of a city the size of Omaha, Nebraska, and its 350,000 people. The lake can store nearly 23 million acre-feet of water. That amount of water would cover the entire state of North Dakota with about six inches of water. The drainage area of the lake is about 181,400 square miles.
Construction of the Garrison Dam ran from 1947-1954 at a cost of $300 million. The dam is 210 feet high and two-and-a-half miles long. Its embankment consists of 66.5 million yards of rolled earth fill making it one of the largest rolled-earth dams in the world.
The power plant consists of five generating units with a total capacity of 515,000 kilowatts. These generators produce 1.8 to 2.6 billion kilowatt-hours of electricity a year. Electrical power is transmitted from the project through seven transmission lines to various substations and is marketed by Western Area Power Administration at the Watertown Dispatch Office in South Dakota.
Exhibits in the power plant lobby feature displays on the construction and operation of the Garrison Dam and recreational opportunities on Lake Sakakawea. The Corps provides a 2 Hour narrative tour on the operative and functions of the dam, power plant and outlet works along with electric distributions of power.
Powerplant tours given Memorial Day weekend through Labor Day weekend on Thursday, Friday, Saturday, and Sunday at 1:00p.m. and 3:00 p.m. Groups of ten or more shall be by special appointment only.

Hours: Project Office hours Monday through Friday 7:30 a.m. to 4:00 p.m. CST
Address: 2 1/2 miles southwest on Highway 200 W
Phone: 701-654-7411
Our Email: DLL-CENWO-GARRISON@nwo02.usace.army.mil
Our Website:www.nwo.usace.army.mil/html/Lake_Proj/garrison/welcome.html

Come visit us in , North Dakota