, Nebraska
category : Cabins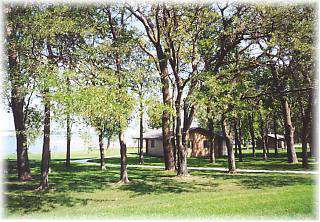 Lewis & Clark State Recreation area offers beautiful new modern housekeeping cabins situated on the shore of Lewis and Clark Lake, offering a beautiful scenic view of the lake and the bluffs. The cabins can be rented one year in advance. Cabins are two-bedroom air conditioned/heated units, with two queen beds and three single beds, with a maximum occupancy of eight. Cabins are equipped with linens, towels, stove, refrigerator, coffeepot, toaster, microwave oven and kitchen service for eight. Complete with a covered patio, picnic table, outdoor grill and campfire ring, all cabins are smoke free. Reservations may be made up to one year in advance.

Admission: Park Permit Required
Address: 7 miles north of Crofton on NE Hwy 121
Phone: 402-388-4169
Fax: 402-388-4696
Our Email: lcsra@ngpc.state.ne.us

Come visit us in , Nebraska
---
More Cabins near , Nebraska
The park has 14 modern, two-bedroom, air-conditioned housekeeping cabins. Each has two double beds, bedding, towels for four,...
---
Lewis and Clark Lake Cabins Related Videos
Update : Those are SNOW geese NOT Canadian geese) Stretching 25 miles long and straddling the Nebraska and South Dakota border, Lewis and Clark Lake is the ...
The Walleye Guys fishing Lewis and Clark in Yankton, SD on 11/21/12.A day on the water with The Walleye Guys. www.thewalleyeguys.com.
Saeger family vacation Summer '12. Don't own rights to the song used.
Snow geese migration.
Favorite Sites: 4, 7, 9, 17, 27, 31, 34, 39, 47, 54, 56, 60, 65, 70, 99, 101, 103, 105, 108, 122, 124, 126, 128, 130, 159, 170.
Annual Boat Parade at Lewis and Clark Lake near Gavins Point Dam at Yankton South Dakota.