category : Museums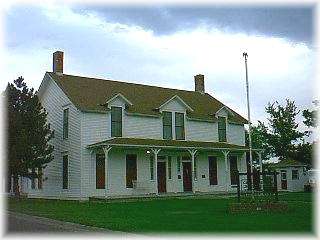 U.S. Troops first occupied a temporary camp known as Sidney Barracks in the summer of 1867 to protect Union Pacific Railroad construction crews. The post was officially established in November 1867. In 1869 it was relocated to a site southeast of Sidney, which had been established by the railroad. Sidney Barracks became Fort Sidney in May 1874. By 1875 the fort contained quarters for three companies, five officers quarters, a hospital, guard house, bakery, laundry, stables, and other structures. It was abandoned in 1894, and most buildings were sold.
The Fort Sidney Complex includes the Post Commanders Home built in 1871, a Double-Set Married Officers Quarters, which now houses the Cheyenne County Museum, built in 1884, and the 1872 Powder House, all located now in a residential area of the town. To the southeast are the remains of the fort's rifle range. The Fort Sidney Powder House is an octagonal rock building that was the post powder magazine later made into a bedroom for the house to which it is now attached. The buildings have been restored and refurnished with authentic articles of the late 1800s by the Cheyenne County Historical Associated and are listed in the National Register of Historic Places.

Admission: Free Admission

Cheyenne County Museum - 6th & Jackson
May 1-January 1
9-11 a.m. - 1-3 p.m. Daily
Post Commander's Home - 1153 6th Avenue
Memorial Day - Labor Day
9-11 a.m. - 1-3 p.m. Daily
Special Christmas Open House
Powder House - 1545 5th Avenue
Handicapped Accessible
(308) 254-2150
Come visit us in Sidney, Nebraska
This local history museum features home-made steam engines, a restored log cabin, spinning wheel, antique organ, old tools, t...