category : Cabins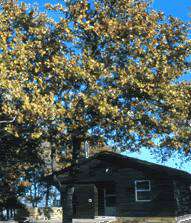 Keystone Lake State Park cabins typically range from the $80's to $180+ dollars a night. As a suggestion you might also check out Bears Glen Cabins at www.bearsglencabins.com
Within
Keystone State Park
are 21 Cabins (with fireplace) - Cabins range from 1 bedroom for 4 from lakeside efficiencies with whirlpool tubs and fireplaces to 2 bedrooms with fireplace and air-conditioning, to a special well-appointed 3 bedroom that meets all ADA handicapped accessibility standards.
2 Lakeside Cabins are isolated in the woods with a jacuzzi, fireplace, full kitchen, microwave, t.v. and shower. They are surrounded by woods and situated on a hilltop overlooking the lake.

Admission: Park Permits Required
Address: Keystone State Park, 10 miles west of Sand Springs on U.S. 412
Phone: 918-865-4991
Our Email: keystone@onenet.net

Come visit us in , Oklahoma
Twin Bridges State Park offers 5 lake huts, one-room structures with electricity, ceiling fans, heat and screened windows. Ou...