category : Cemeteries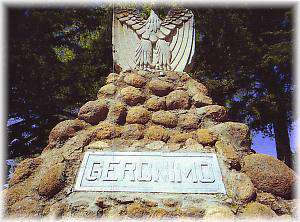 In 1894, Geronimo, the infamous Apache warrior, and 341 of his renegade tribe were brought from the prisons in Florida and Alabama to Fort Sill, where they lived in scattered villages on the post ranges. Although a prisoner of war and stripped of his prestige and authority, Geronimo remained a constant source of interest and awe at the fort. Geronimo was granted permission to travel for a while with Pawnee Bill
s Wild West Show and he visited President Theodore Roosevelt.
Geronimo died of pneumonia at Fort Sill on February 17, 1909, and was buried in the Apache cemetery on Beef Creek, near the Apaches' first winter encampment at Fort Sill. The rest of the Apaches remained on Fort Sill until 1913 and they were taught by Lt. Hugh L. Scott to build houses, raise crops and herd cattle. Scott also commanded troop L of the 7th Cavalry, a unit comprised entirely of Indians and considered one of the best in the west. Indian scout I-See-O and other members of the troop are credited with helping tribes on the South Plains to Avert the Bloody Ghost Dance uprising of the 1890s in which many died on the North Plains.
Other points of interest include the Apache and Comanche Cemeteries at Fort Sill along with the Chief's Knoll at the Post Cemetery where Indian notables such as Quanah Parker, Santanta and Setank are buried.
Contact the Fort Sill Museum for more information.

Admission: Free Admission
Hours: Daily, 8:30 am to 4:30 pm, except December 25 - 26 and January 1 - 2
Address: 437 Quanah Road
Phone: 580-442-5123
Our Website:sill-www.army.mil/Museum/
Guided Tours for large groups may be arranged by contacting the museum. Persons wishing to donate items to the museum, provide historical information, arrange museum tours or gain access to research facilities should come to the museum administrative office at the same address.
Come visit us in Fort Sill, Oklahoma