Oklahoma Outlaw Prison Rodeo
Starting date:
Ending date:
Event# 800 879-2550
Event Details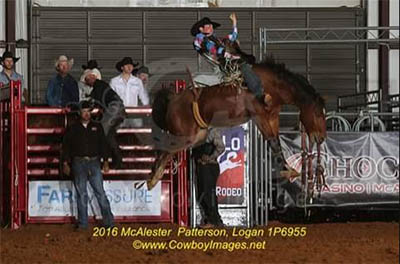 UNFORTUNATELY, THE OKLAHOMA STATE PRISON RODEO WILL NOT BE HELD IN 2011.

The broncs and bulls fly high — but the inmates fly higher. And that's all just part of the fun at the annual Oklahoma Prison Rodeo, billed as the world's only rodeo held completely behind prison walls. The annual event has been going on at the Oklahoma State Penitentiary in McAlester, Okla., practically every year since 1940, though it was skipped several times a few decades ago. The date is something new this year. It's the first time since its inception the rodeo isn't being held during the Labor Day weekend. Secondly, one of the biggest changes this year is the addition of teams from the state's two female prison institutions. More than two dozen women from the Mabel Bassett and Eddie Warrior correctional centers are training to compete against their male counterparts. They'll be riding broncs and bulls, racing wild horse, double mugging, bull poker - just like the guys. Altogether, about 140 inmates will be ready to participate in the rodeo. Not everyone will, since some are alternates for their team. The alternates have to be ready to go on a moment's notice in case a teammate can't participate — whether due to injury or a bad case of nerves.

Professional rodeo cowboys and cowgirls also perform during the rodeo, but there's been a change in that this year as well. This is the first time the International Professional Rodeo Association will have its members doing the roping, steer wrestling and barrel racing events. "We're real excited about this," said Butch Stewart, IPRA executive director. "There'll be some top competitors there. I wouldn't be surprised if you got a few current or former world champions."

As for the stock the inmates will be riding: It's not something someone just brings from home. It's professional rodeo stock, brought in by professional stock contractors. This year's contractor, Wild Horse Productions, had more animals in the International Finals Rodeo in 2005 than any other contractor. "I feel that when people pay money to be entertained, they want the best entertainment they can get," said Wild Horse owner Wendel Ratchford. "I'll be bringing some really electric stock down there to provide that entertainment."

Visit www.mcalester.org to order tickets online, or for more information.

Gates open at 6pm, rodeo begins at 8pm

Content furnished by Doug Russell, news editor for the McAlester News-Capital, www.mcalesternews.com
Oklahoma Outlaw Prison Rodeo
Phone :
800 879-2550
(Always call and confirm events.)
Web Address :
http://www.mcalester.org
Admission Fee :
$8 for general admission, $12 for reserved seating and $17 for box seats.
Additional Notes :
McAlester is an easy community to reach, lying as it does along three major roadways. It's located along U.S. Highway 270 which is crossed north and south by U.S. Highway 69 and the Indian Nation Turnpike.
The city fills up with people during rodeo weekend, so if you're traveling very far it's best to plan ahead for motel reservations. McAlester has quite a range of motels, from AmericInn and Holiday Inn Express to some that aren't part of larger chains, such as the popular Happy Days Motel. But if you don't want to stay in McAlester, or if camping's more your style, there are plenty of places within a short driving distance of the prison, including three state parks with camp sites or cabins and several communities with motels or bed and breakfasts.
Rodeos
Attractions and Upcoming Events
Things to do near McAlester, OK