category : Historic Schoolhouses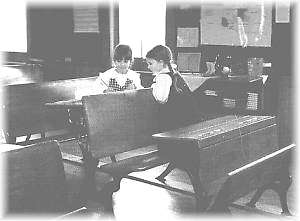 Pleasant Valley School, listed on the
National Register of Historic Places
, is the oldest one room school still in operation in Oklahoma. On September 11, 1899, Mr. and Mrs. Jonathan Zuck sold the property on the southeast corner of 19th and Sangre Road to the Board of Education for $5. A building was constructed and it operated as a one room country school until 1943. It was then consolidated into the Stillwater Public School System.
The school was furnished with a teacher's desk, benches and double desks fro students, a recitation bench, and a bookcase. A pot belly stove was placed in the center of the room. A wash stand held the water pail and pan. Original blackboards were constructed of black painted wood; slate boards were installed later. The school year varied from four to nine months and the children attending ranged in age from five to nineteen years old. At one time there were as many as fifty students in attendance.
In 1987 the Pleasant Valley School Foundation was created for the restoration, care and operation of a living one-room school house. In its dedication to restore the school with historical accuracy, the restoration committee was fortunate enough to locate the original school bell in Arizona, which was then donated to the school.
Fourth grade classes throughout the state are invited to attend a day long class taught as it would have been in territorial days. The experience is complete with old-style desks, lunches brought in pails, and reading from McDuffy Readers.

Address: 19th and Sangre Road

Come visit us in Stillwater, Oklahoma