category : Museums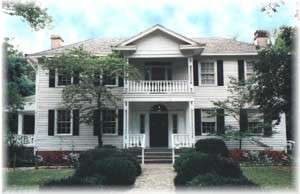 The Murrell Home was built in the new Cherokee Nation about 1845 by George M. Murrell. Murrell was a native Virginain who married Minerva Ross in 1834. Minerva was a member of a wealthy mixed-blood Cherokee/Scottish family, and the niece of Chief John Ross.
The Murrell Home is the only remaining antebellum plantation home in modern-day Oklahoma. This home stands as a reminder on the high lifestyle practiced by a few in the Cherokee Nation before the Civil War. The home contains original and periodic artifacts, antique furnishings and historic
manuscripts. A nature trail is on the grounds.

Admission: Free Admission - donations accepted
Address: 3 miles south of Tahlequah on US Highway 62, then south 1/10 mile on State Highway 82, then 1 mile east on Murrell Road.

Hours:
April 1st through Labor Day, Wednesday - Saturday, 10 - 5, Sunday, 1 - 5
September, October, March, Friday & Saturday, 10 - 5, Sunday, 1 - 5
November through February, Saturday, 10 - 5, Sunday, 1 - 5
Closed State Holidays
The home is the property of the Oklahoma Historical Society under the Historical Sites Division
For group tours & Special program schedules contact:
George M. Murrell Home Site
H.C. 69, Box 54
Park Hill, OK 74451-9601

Come visit us in Tahlequah, Oklahoma