Event Details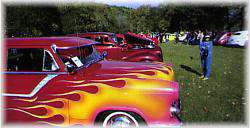 The fall festival is the biggest event
of the year, drawing people from across the state
and the country. You can enjoy food, arts, crafts,
entertainment, and carnival rides in one of the
most beautiful settings in the state.

In conjunction with the festival is the
"Fall Foliage Cruise" which takes place on
Saturday of the festival. It is one of the
biggest car shows you will see, drawing nearly
500 Custom and Classic Cars.

5K Run will be held October 18th in conjunction with the
Robbers Cave Fall Festival, sponsored by the
Friends of Robbers Cave State Park Assc.

Address :

Robber's Cave State Park, N of Wilburton on Hwy 2

Wilburton

Oklahoma


Phone : 918-465-2759

(Always call and confirm events.)
Email Address :
wilburtonchamber@sbcglobal
Web Address :
www.robberscavefallfestival.com/cruise.htm
Admission Fee :
No entry fee.