Potwin, Kansas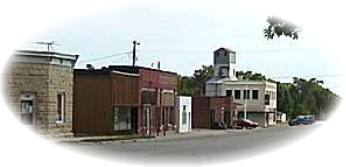 Potwin is a bedroom community to the city of Wichita maintaining old fashion values and enjoying the economic productivity and quality of life of a metropolitan city. It is a quiet town with clean air and caring people who are interested in community development. You will come away from a visit to Potwin with more than you leave here. We invite you to join us as we pave the way into the twenty first century.

The City of Potwin was incorporated as a town on April 8, 1885. This land, owned by Charles Potwin, whereby the town received its' name, became a station for the Missouri Pacific Railroad, instigated by William I. Joseph, known as the Father of Potwin. Descendants of the Joseph family are still involved with the City of Potwin.

The city enjoyed celebrating their 100th year in 1985, with much excitement and pride. The words of their slogan "Proud of our Past - Looking Forward to the Future" describes the aura and flavor of this Kansas community.

During the first half of the twentieth century, Potwin enjoyed the prosperity of the Vickers Oil refinery when production reached 16,000 barrels a day during the late 50's. Today the Circle E and Mann's ATP feedlots, as part of one of the largest industries in our county, are major area employers and have helped to rebuild the town.
---
---
Potwin Kansas Related Videos
Seeking out mean and awesome street rods, David, Cy and Patricia head to Potwin, KS for their annual car show.
This video shows you how to say or pronounce Potwin, Kansas. A computer said Potwin, Kansas. How would you say Potwin, Kansas?
http://314westellisstreet.agentmarketing.com?rs=youtube For more info and pics, Text "4660636" to 79564 Single Family OnSite Blt - POTWIN, KS Good investment...
Call 1-888-505-2369 filing bankruptcy chapter 7 filing for bankruptcy chapter 13 Chapter 7 Bankruptcy Attorney Chapter 13 Bankruptcy Lawyer chapter 11 bankru...
Potwin Kansas call 1-888-551-1270 consumer credit counseling service CCCS repair credit card debt consolidation credit repair free consumer credit counseling...
Potwin Kansas Fireworks 2011.