Purcell, Oklahoma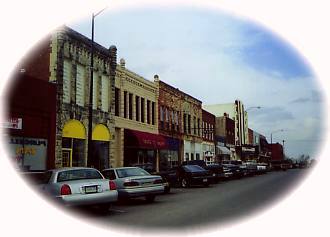 Anchored by its landmark antique shops, the downtown business district in Purcell is a source of pride for local residents and a destination of many tour buses. From a renovated pre-statehood hotel and a remodeled historic theatre which house a pair of the many impressive antique shops to a downtown park which includes a genuine Santa Fe caboose and numerous retail shops, everything from greeting cards to electronic equipment can be found.

Located in the very Heart of Oklahoma and nestled in the bluffs overlooking the South Canadian River, the birthplace of Oklahoma, Purcell, has a unique and rich history which blends many cultures, industries and people into a city which can boast of a charming past while eyeing a progressive future.

Named after local railroad director, E.B. Purcell, the city was the site of a convention in September of 1893 at which delegates from across the state prepared the petitions to Congress asking for statehood. Fourteen years after this historic meeting, Oklahoma was admitted as the 46th state of the Union.

Purcell's history dates back to 1887 when Purcell became an important commercial center as the Gulf, Colorado, and Santa Fe Railway from the south met the Atchison, Topeka, and Santa Fe Railroad from the north and the junction was completed. The two established a switching yard at Purcell, the the Chickasaw Nation.
---
Attractions near Purcell, Oklahoma
Course Access: ResortHoles: 18Reserve Advance Tee Times: 4 days...
This downtown memorial honors oil industry giant, Earl P. Halliburton, founder of Halliburton Services, an international oil ...
With the large uncleared areas and artificial fish shelters that were constructed prior to impoundment, Copan Lake offers exc...
---
Purcell Oklahoma Related Videos
75deg and a 12pk!!
Purcell Oklahoma is the County seat if McClain County. They are the self proclaimed quarter horse capital of the world. It is located south of Norman, OK on ...
This is a storm going up in Purcell, Oklahoma, as seen from my backyard.
Purcell, OK - Oklahoma.
This song titled "Heart Of Oklahoma" about Purcell, Oklahoma was written & produced by Mark Whitehead. For bookings please visit http://www.myspace.com/roads...
"Ferguson Buick GMC. We offer peace of mind when it comes to reliable Buick GMC Auto Service in Norman and Purcell Oklahoma http://www.fergusonchallenge.com/...