Renditions Annual Polish Pottery Festival
Starting date:

Event# 816-640-2300
Event Details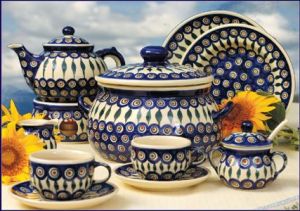 Renditions Polish Pottery Festival, the only one of its kind outside of Boleslawiec, Poland, celebrates its anniversary at 522 Main St. Weston MO. Visitors will be immersed in "all things Polish and Eastern European".

Enjoy continuous live entertainment with The Alpen Spielers, a dynamic and energetic polka band, folks dancing, local and regional artisans demonstrating and selling their art. Pysanky egg art demonstrated through the day. Always popular, is the Polish Pottery Exchange.

Traditional Polish food such as pierogi, golabki, bigos and kielbasa, as well as, a huge assortment of traditional breads, cakes and desserts.

Whether you are a true Polonia or just Polish at heart, Renditions Polish Pottery Festival is an exceptional celebration of the food, music, language, customs, tradition and the culture that is uniquely Polish and Eastern European. The festival is a day of visiting with friends, outstanding music, dance entertainment, artisans at work, enjoying traditional foods and just simply having fun!.
Renditions Annual Polish Pottery Festival
Address :
522 Main Street, Historic Weston
Weston
MO
Phone :
816-640-2300
(Always call and confirm events.)
Web Address :
http://www.renditionsweston.com
Cultural Festivals
Attractions and Upcoming Events
Things to do near Weston, MO