category : Museums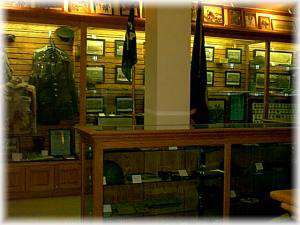 The Richardson County Military History Museum is located in the east entrance of the Richardson County Courthouse, in Falls City, Nebraska. This museum is dedicated to preserving the rich military history of those men and women who served our nation.
The Museum houses a wide variety of artifacts in beautiful oak cases that have been built to match the courthouse's original 1924-25 oak woodwork. There is a large collection of exhibits and displays of war memorabilia, including photographs, uniforms, and equipment from WW I, WW II, the Korean War, the Vietnam War, and the Gulf War, and Company B, 134th Infantry, Nebraska Army National Guard.

Hours: The Museum is open for self-guided tours Monday through Friday from 9:00 am until 5:00 pm.
Address: Downtown, 1700 Stone Street
Falls City, NE 68355
Phone: (402) 245-2911

Come visit us in Falls City, Nebraska
Aztec cooking utensils, stone building, Aztec and Mayan artifacts, local and Mexican cultural history, Mexican clothing, phot...