category : Tours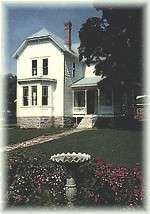 History is one of Tahlequah's most valuable resources, much of it in the history of the Cherokee Nation ... to a Civil War cabin ... to homes of townspeople at the turn of the century.
The self-guided tour starts downtown at the Cherokee Square and guides you through each turn as you travel the streets to each location. There are 13 points of interest on the tour with explanations of each site, but we hope you will keep your eyes open to the many buildings of architectural or historical significance.
Pictured above is one of the homes on the tour, the Johnson Thompson Home at 127 West Keetoowah Street, listed on the
National Register of Historic Places
. The style of this two-story brick home is modified Gothic. A revival of the Gothic style took place from 1835 to 1880. Tall, slelnder windows emphasize a vertical effect. Johnson Thompson, one of the wealthiest merchants in Indian Territory, built the house in 1880.
Come visit us in Tahlequah, Oklahoma