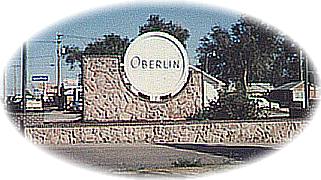 A former resident of Ohio, John A. Rodehaver, named the Decatur county seat town after the Ohio town of
Oberlin
.
Nestled in the Sappa Valley at the intersection of U.S. Highways 36 and 83,
Oberlin
offers an exciting blend of history, recreation, family-oriented activities and scenic beauty. A community which wants to share its past, present and future with you.
Pete Felten\'s \"Pioneer Family\" native limestone statue overlooks the central business district. Connecting canopies, pleasing architecture, global lights, and appealing store fronts create a unique shopping experience.
Recreation abounds in our area. Nearby lakes and streams offer excellent fishing and boating opportunities. Our rural location, complete with fields and creek bottoms, provides some of the best pheasant hunting in the Midwest. You can also enjoy a day of challenging golf at
Oberlin
\'s public, 9 hole course.
Oberlin Kansas Related Videos
By: Jeff Crankcase
Duration: 10.57
min.
Views: 23
Rating: 0
The MidWest is a great place to live, work, retire, and raise your children, Decatur County Kansas is an oasis from the urban sprawl. To find out more, conta...
By: oberlinks
Duration: 10.77
min.
Views: 4582
Rating: 4.285714
By: Oberlin Kansas
Duration: 15.05
min.
Views: 76
Rating: 0
OUTSTANDING performance of Loch Lomond by the Men In Black from Oberlin, KS at State Music! MUST LISTEN!!!
By: TheZMay33
Duration: 3.50
min.
Views: 472
Rating: 5.0
My wife & I headed out to Oberlin, Kansas for a few days of with the family for Thanksgiving. I figured it would be mostly flat out there, but managed to fin...
By: Kyle Ramsey
Duration: 2.20
min.
Views: 330
Rating: 5.0
One of my friends, from Oberlin, Kansas, was filming her grandson playing the bells in a church performance and had a weird like chest pressure or presence. ...
By: Corey Brockway
Duration: 0.52
min.
Views: 42
Rating: 0
By: Jeff Crankcase
Duration: 9.85
min.
Views: 2
Rating: 0
8 inches of snow fell in Oberlin, Kansas on 3 December 2011. This video shows various clips from in town during the peak of the storm around the late morning...
By: Mike Umscheid
Duration: 2.75
min.
Views: 157
Rating: 0
Smoky Hills Public Television's Scoreboard Show Kansas High School Regional Cross Country at Oberlin, Kansas. Featuring Runners from Bennington, Ell-Saline (...
By: ScoreboardShowKSPBS
Duration: 2.93
min.
Views: 235
Rating: 0
By: Jeff Crankcase
Duration: 7.08
min.
Views: 4
Rating: 0