Springtime Home-Garden & Landscaping Expo
Starting date:
Ending date:
Event# 856-7650118
Event Details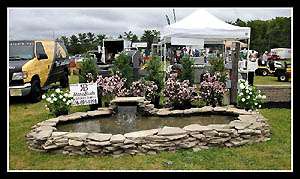 Smaller home show offers vendors chance to connect with public Buena Vista Camping Resort, Buena New Jersey - From doors, windows, ceilings and floors to landscaping displays, kitchenware, solar panels and more; whether you want to fix it, build it, or renovate, the Springtime Home-Garden & Landscaping Expo has it all.

This two-day event will be held on Saturday and Sunday, May 19-20, 2012, from 10am to 5pm at the Buena Vista Camping Resort. The home show will offer area residents the chance to shop for anything having to do with homes, gardens, landscaping, travel, investments, security, new cars, fencing and lawn equipment from more than 150 vendor from the tri-state areas. More than 100 Craftsmen will showcase some of the finest handmade arts and crafts in South Jersey. This two day event promises to have something for the whole family. The Springtime Home-Garden & Landscaping Expo will give many vendors the opportunity to collect leads, make appointments and be recognized more readily by the community. "Home Show companies like the Cabinet Studio, of Vineland will have and outdoor kitchen display with grilling demonstrations. The Cabinet Studio will be giving away a $5,000 kitchen make over. Many of the companies will offer special expo savings for the consumer visiting the expo. Hundreds of products and services will be represented and consumers will be able to attend informative seminars and talk to the professionals about all their home improvement projects. Kathryn and Beau Wright, of B & K Enterprise, of Millville are the organizers and have been marketing successful events in South Jersey for more than nine years. "Marketing a local Home Show Expo keeps consumers shopping in their community, said Kathryn Wright. Home Show companies like R.E. Cummines, of Vineland, participate in smaller events because the cost is more affordable for local businesses. Doug Cheesmen, owner of R.E. Cummines, Inc. stated "Gaining community recognition and getting leads are the reasons local companies will attend the show". "You get jobs you may never get," he said. Cheesman said he hopes to get at least 10 good leads from attending the show, and although not all will result in a job; he said he is pleased to be a part of this year's event. His company will showcase and outdoor landscaping exhibit with interlocking paving stones. He hopes to show consumers how they can create amazing sidewalks and backyard patios by using his full line of products.

In addition to the Home Show companies, there will food vendors, live music, picnic style dining, free craft making for kids, flowers and plant sale, give a ways and free shopping bags. The Springtime Home Expo is open to the general public and admission is FREE.

Consumers please to bring a pet food donation for the local animal shelters. Drop off barrel will be at the main entrance to show. Camping is available by calling the Buena Vista Camping Resort at (856) 697-2004. Families interested in attending should visit www.springtimehomeexpo.com for schedule, events, exhibitors attending and driving directions. Local companies are encouraged to sign up for this one of a kind event by no later than May 10th. Visit the events web site at www.springtimehomeexpo.com and simply download contract and mail it out today.

Next Shows: Sunday Craft & Home Fair, Rte. 40, Salem County Fairground, Pilesgrove/Woodstown, NJ on May 27 & June 3, The Gloucester Home & Craft Fair, June 16, 2011, 9am to 4pm, Gloucester Country 4-H Fairground, Rte. 77, Mullica Hill New Jersey.
Springtime Home-Garden & Landscaping Expo
Address :
Buena Vista Camping Resort, 775 Harding Hwy. Rtes. 40 & 54
Buena
NJ
Phone :
856-7650118
(Always call and confirm events.)
Fax :
856-765-9050
Web Address :
http://www.springtimehomeexpo.com
Admission Fee :
Free Admission, lots of parking
Home and Garden Shows
Attractions and Upcoming Events
Things to do near Buena, NJ