Sunflower Festival
Starting date:
Ending date:
Event# 573-242-3336
Event Details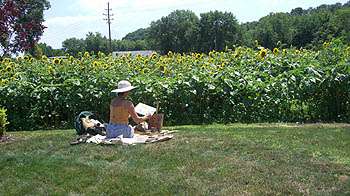 Fields, gardens, and containers throughout the town are filled with SUNFLOWERS
and provide a background for this festival. During the days of full bloom the artists create art work with the SUNFLOWER as the primary subject. Artists from many areas including St. Louis and beyond come to find a perfect position for painting, photographing, and discovering the joy of working with these amazing flowers.

Please call for information regarding blooming time as the flowers may be perfect for art work as much as two weeks prior to the festival depending on planting time and weather conditions.
Sunflower Festival
Address :
City of Clarksville, MO
Clarksville
MO
Phone :
573-242-3336
(Always call and confirm events.)
Fax :
573-242-3450
Web Address :
http://www.clarksvillemo.us
Festivals
Attractions and Upcoming Events
Things to do near Clarksville, MO