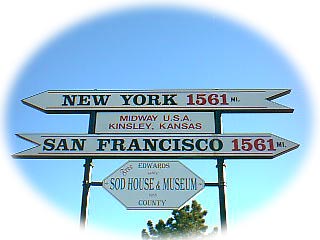 Kinsley
is located Mid-Way between New York City and San Francisco. It is the county seat of Edwards County and is situated in the Arkansas River Valley in west central Kansas, a region known for agriculture and related products.
The Chicago Workingmen's Town Company founded
Kinsley
in 1872, naming it Petersburg for T.J. Peter, a director of the Santa Fe railroad which was then building westward. In 1873 the town was renamed in honor of E.W.
Kinsley
, a Boston philanthropist who donated money to the town to build a Congregational Church, Situated along the Santa Fe Trail, history abounds in the region, including the Battle of Coon Creek which occurred east of town between a detachment of soldiers and a band of Comanche and Osage Indians.
Indian attacks along the Santa Fe trail were frequent from the 1820s to the 1870s. Two miles east of
Kinsley
at Arkansas River bridge, where the trail followed the Arkansas River, the Battle of Coon Creek was fought June 18, 1848, between some 200 Comanches and Osages and 140 soldiers, half of whom were recruits bound for service in the Mexican war. A startling occurrence after the inconclusive battle, according to the official report, was the appearance of an Indian woman "who seemed to be their queen, mounted on a horse, decorated with silver ornaments on a scarlet dress, who rode about giving directions about the wounded." The identity of this angel of mercy has remained a mystery.
Kinsley
had its "Great Train Robbery" January 27, 1878. Bandits attempting to loot the Santa Fe stations' safe and the westbound Pueblo Express were foiled by a young telegrapher named Andrew Kinkade. Four of the gang were later captured by Sheriff Bat Masterson of Dodge City.
Kinsley Kansas Related Videos
Elvis TCB For huge crowd at Edwards County Fairgrounds.
By: li ghtninboy
Duration: 8.43
min.
Views: 136
Rating: 5.0
Smoky Hills Public Television's Scoreboard Show Kansas High School Cross Country at Kinsley, Kansas. Featuring Runners from Ness City, Haviland, Pretty Prair...
By: ScoreboardShowKSPBS
Duration: 3.20
min.
Views: 1864
Rating: 3.6666667
For licensing, please contact me at: austin@austinmarti.com This chase was a blast! Thanks to Hank Schyma for chasing with me! He's awesome. Check out his ch...
By: AvidForStorms
Duration: 7.55
min.
Views: 280
Rating: 5.0
So much going on in this video, gustnadoes and tornadoes....including a spinup that was pretty much on top of us. Watch the annotations! From the damage surv...
By: AeroStorm911
Duration: 6.40
min.
Views: 868
Rating: 4.1666665
Our team from UND documented four fantastic tornadoes in the vicinity of Kinsley, KS and Rozel, KS on 5/18/2013. We watched this storm from a puffy little cu...
By: zbhargrove
Duration: 4.77
min.
Views: 17
Rating: 5.0
Smoky Hills Public Television's Scoreboard Show Extra Highlights High School Cross Country Kinsley, Kansas October 11, 2012 www.scoreboardshow.tv.
By: ScoreboardShowKSPBS
Duration: 15.00
min.
Views: 31
Rating: 0
Clip 2 in the series, begins with storm damage as we drive through 60-70mph outflow winds. Downed grain silos, power lines and trees.
By: AeroStorm911
Duration: 4.80
min.
Views: 370
Rating: 3.3333333
Would you like to know where to get the best in communication and entertainment services in Kinsley, Kansas? The answer is Cox Communications. Cox Communicat...
By: houston robbins
Duration: 0.45
min.
Views: 10
Rating: 0
Road journey from Kinsley KS to Grand Junction CO.
By: mazarita
Duration: 1.40
min.
Views: 221
Rating: 5.0
Video clip from an interview with Gordon Coats on December 29, 2009 in Kinsley, Kansas highlighting his life in Edwards County, Kansas during World War II.
By: KinsleyLibrary
Duration: 4.58
min.
Views: 199
Rating: 0