Cities in Haywood County
Popular Attractions in Haywood County
Cabin on Eagles Nest
Waynesville, NC | Category: Businesses
Cabin on 4.5 acres, with stream and pond. Wood floor, fireplace, master bedroom and bath, loft with 2 double beds and bath.
Lakes in Haywood County
Hiwassee Lake
Region : Mountains Region, NC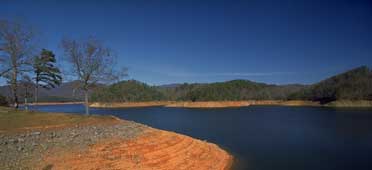 This beautiful mountain lake covers over 6,000 acres and has almost 188 miles of shoreline. The Hiwassee, Nottley and Valley Rivers feed it, and along with Appalachia Lake and Lake Chatuge, the three lakes are often referred to as the "Chain of Lakes."
Hiwassee Lake