El Dorado Lake Cabins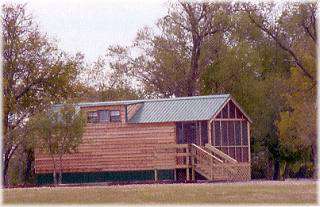 El Dorado State Park is providing log cabins as an alternative camping opportunity. The cabins are availbale to all visitors year-round. They are especially beneficial for individuals who enjoy the facilities provided by the park but would rather not "rough it." You can experience the beauty of the lake from the comfort of one of five primitive cabins and two deluxe cabins. Beds are fitted with mattresses only, so YOU WILL NEED TO BRING YOUR OWN BEDDING.
Small Cabins:
Each cabin will accommodate a family or group of up to four people and provides the following: full bed, bunk bed, electricity, air conditioner, heater, water hydrant (outside), table and 4 chairs. The cabins are also equipped with barbecue grills, picnic tables, and glass windows. For your convenience, restrooms and shower facilities are open year round; and are centrally located.
Deluxe Cabins:
These new cabins will sleep from six to ten persons and feature a furnished kitchen with refrigerator/freezer, oven and cook top, microwave, a full bathroom with shower, A/C, heat, a separate bedroom and a sleeping loft.
Directions to Cabins:
Enter Bluestem Point off of Highway 177. Stay on main road through Bluestem point. Before reaching Boat Ramp #2, take swimming beach turn off and follow road to cabins.
FEES (Small Cabins):
Fri, Sat., & Holidays - $35.00
All Other Days - $30
Nonrefundable reservation deposit - $10
Required Damage Deposit - $35
(All fees subject to change)