Please help promote Milford Lake, Kansas :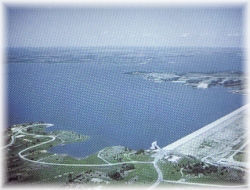 Milford Reservoir is Kansas' largest artificial lake, with 163 miles of shoreline and over 16,000 surface acres. The lake is 5 miles north of Junction City and only a 30-minute drive west of Manhattan in the Flint Hills of Kansas.

Milford Lake and the surrounding 21,000 acres make up one of Kansas' prime outdoor habitats. Native and red cedars line the irregular shoreline. Known as the "Lake of Blue Water," it is one of the more scenic of Kansas' lakes.

The Milford Nature Center/Fish Hatchery , located at the base of Milford Dam, is a true state-of-the art facility, exploring nature and the wonders of aquatic life at its best.

At both Tuttle Creek, in Manhattan, and Milford Lakes, sailing is prevalent and each lake has its own yacht club.

Fees: Park Permits Required
Location: 5 miles north of Junction City on Hwy K-57
Contact: 785-238-5714
Milford Lake KS Related Videos