About Angostura Reservoir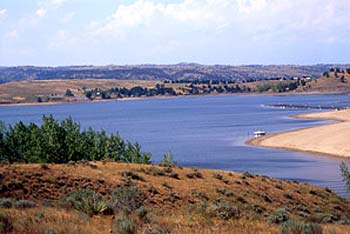 Angostura is one of the few large reservoirs in western South Dakota's Black Hills. The lake's crystal waters and strong fishery make it a popular vacation area. The dam was built in 1949 by the Bureau of Reclamation across the Cheyenne River for irrigation purposes but paved the way for recreation. The word "angostura" is Spanish for "narrows."
The average depth is 29 feet and the deepest portion of the pool is 75 feet deep when full. The lake's average summer temperature is 66 degrees F. The 4,706 acre reservoir managed by the SD Department of Game, Fish and Parks for the Bureau of Reclamation has 36 miles of shoreline and some of the finest sandy beaches in the state. This is a major attraction for many visitors along with Angostura's birdwatching crowd.