Roosevelt Lake Fishing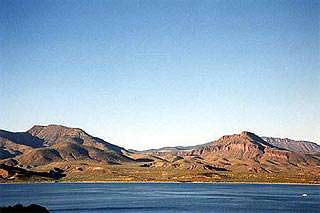 For fisherman, Roosevelt Lake is the place to be with killer spring crappie spawns to lunker largemouth bass and record-setting flathead or channel catfish in the summer.
"Roosevelt grows fish fast because it stays warm year-round and is relatively shallow with brush-filled bays that provide excellent spawning sites," says veteran outdoor writer Bob Hirsch, who has weighed in an 8-pound 12-ounce bass from the lake. "The water is extremely rich because of all the nutrients brought in from the two river inflows."
This lake, with some of the best bass waters in the country, will only get better as water levels increase, flooding new structures and bringing new nutrients to enrich the lake and its aquatic community. "If you don't catch fish at Roosevelt, you're not trying hard enough," says professional tournament angler Greg Hines of Mesa. "You can always catch fish here," says fellow pro and former Phoenix resident John Murray. "No matter what time of year or what the weather is like, bass are always willing to bite in these waters."
The game fish include not only largemouth bass, but their smaller relations, the smallmouth bass, as well as crappie, carp, channel catfish, flathead catfish, bluegill, buffalo fish and an occasional rainbow trout. Some catches have set new Arizona Inland Water Hook and Line records, including, for example, a 7-pound smallmouth, a 14-pound largemouth, a 36-pound buffalo fish, a 40-pound flathead and a 50-pound channel catfish.