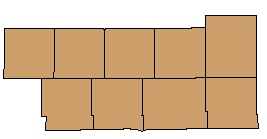 Arts and cultural pursuits are central to this region. A day of roller coasters followed by a night of baseball is sure to thrill. And for a glimpse of the area's rich past, visit a 19th century farm and village and a wildlife refuge where buffalo still roam.
Popular Attractions in Central Iowa
Des Moines Art Center
Des Moines, IA | Category: Galleries
Building designed by three internationally-recognized architects houses an internationally-renowned collection of artwork from the 19th century to the present. Traveling exhibitions, educational and fine arts programs, library, museum shop and restaurant.
Des Moines Art Center