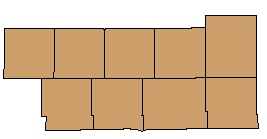 Arts and cultural pursuits are central to this region. A day of roller coasters followed by a night of baseball is sure to thrill. And for a glimpse of the area's rich past, visit a 19th century farm and village and a wildlife refuge where buffalo still roam.
Lakes in Central Iowa
Red Rock Reservoir
Region : South Central Iowa, IA

Lake Red Rock is Iowa's largest lake with a lake surface area of 15,250. Camping, shoreline fishing,boating, hiking/biking trails, swimming beach, sailing, wildlife viewing, parks,and more. Check out the information bars for more on Red Rock Reservoir.
Red Rock Reservoir