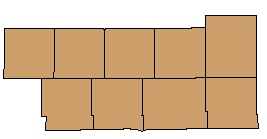 Arts and cultural pursuits are central to this region. A day of roller coasters followed by a night of baseball is sure to thrill. And for a glimpse of the area's rich past, visit a 19th century farm and village and a wildlife refuge where buffalo still roam.
Popular Attractions in Central Iowa
Iowa Events Center
Des Moines, IA | Category: Event Centers
Wells Fargo Arena, Hy-Vee Hall, Veterans Memorial Auditorium, Polk County Convention Complex. Concerts, tournaments and special events throughout the year. Home of the new Iowa Stars hockey team, the top-level affiliate of the NHL's Dallas Stars.
Iowa Events Center