category : Cemeteries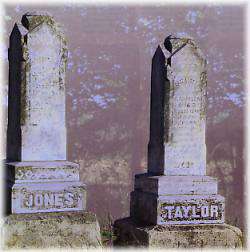 On a cold March night in 1885, Elizabeth Taylor and her twin brother Tom Jones lost their lives to vigilante violence. Amid the wild rumors and conflicting reports of her life, it appears that Elizabeth was a capable, ambitious woman, criticized by many townspeople for being far too independent a woman for the time in which she lived.
When her husband died in 1882, neighborhood tongues wagged that Elizabeth had poisoned him, even though the coroner ruled that he had died of natural causes. Newly widowed Elizabeth and her brother Tom set about growing her cattle business into a profitable venture. Elizabeth, unfortunately, was usually tangled in some livestock or land dispute with her neighbors. A particularly heated argument endued when Elizabeth confronted men stealing lumber from her land. During the melee, one of the men, Edwin Roberts, was shot and Elizabeth's sons were charged with his murder (both boys were later acquitted).
To avenge Robert's death, a group of assailants - led by a spurned suitor whose marriage proposal had been earlier rejected by Elizabeth - stormed Tom's house late one night, kidnapped Elizabeth and her brother, and hanged the two from a nearby bridge. Legend says that from the moment a passing hunter discovered the dangling corpses, he was forever cursed with a speech impediment.
The graves of Tom and Elizabeth, one of very few women hanged in the days of the Old West, lie in a cemetery just a stone's throw from the ghost town of Spring Ranche. Stop by this peaceful place, the setting of a far-from-peaceful end.

Address: West on Hwy 41 about nine miles from Clay Center - watch for signs indicating the site, south on a county road.

Come visit us in Clay Center, Nebraska