Annual Quilter's Day Quilt Show
Starting date:

Event# 580-335-3380
Event Details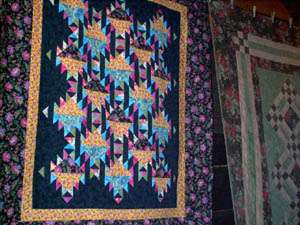 This one-day event will be hosted in the Barn, Church, & School buildings at the Pioneer Townsite, on the west side of the Tillman County Courthouse, in downtown Frederick from 9am until 3pm. It will be free of charge for both exhibitors and observers.
Exhibitors should plan to stay with their quilt item while it is on display, or have a designated attendant to represent them. This is a social event solely for the purpose of allowing quilters to interact in a pleasant setting. There will be no judging of items, no awards, and no commercial sales of quilting or sewing items at the event. Beginning at 9am, bring in your quilt, quilt top, quilt block, or quilt panel for display, and receive a free* Fat Quarter (* limited to the first 40 exhibitors). Meet and visit with other Quilters from the surrounding area, see how quilts are made, and enjoy the day viewing & talking quilts until 3pm. Everyone is invited to attend. Other Pioneer Townsite historical buildings will also be open. The event is being sponsored by ThayerRags Fabric Center of Frederick.
Annual Quilter's Day Quilt Show
Address :
108 W. Gladstone
Frederick
OK
Phone :
580-335-3380
(Always call and confirm events.)
Web Address :
http://http://thayerrags.com/
Quilt Shows
Attractions and Upcoming Events
Things to do near Frederick, OK