Annual Brookings Car Show
Starting date:

Event# 605-692-7284
Event Details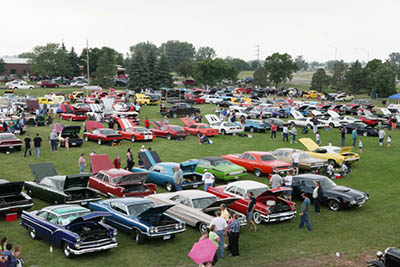 The second weekend in June has seen Brookings, SD, filled with hot rods and muscle cars since 1993. This year some activities have been added that will be going on in downtown Brookings on Saturday along with the car show in Pioneer Park on Sunday. There will be a Show-N-Shine event on Saturday from 11 AM to 4 PM around Nick's Hamburger Shop at the corner of Main Avenue and 5th Street. A cruise will leave from Nick's around 4 PM, and will end back at Nick's for food, and enjoy more time with friends and fellow car enthusiasts. You can register for the Cruise at the Show-N-Shine in the afternoon.

The car show on Sunday in Pioneer Park is where everyone will have the opportunity to show off their prized ride by bringing your vehicle out to Pioneer Park to enter it in the judged car show, where there have been up to around 200 cars. Come out for the day and enjoy some casual viewing of cars and trucks in the 28 different classes we have to offer. The cars and trucks in each class will be competing for 1st, 2nd, and 3rd place awards, along with a Judge's Choice Award, and there will be dash plaques for each entrant in the show. There will be several food vendors to choose from, and with the great collection of cars and trucks to view at the show, it will be an afternoon of fun for all in attendance to walk around and enjoy the cars and trucks on display and to grab something to eat. The registration for the car show on Sunday is 9 AM to 11:30 AM, with the car show going from 11:30 AM to 3:30 PM with the awards at 3:30 PM.
Annual Brookings Car Show
Phone :
605-692-7284
(Always call and confirm events.)
Web Address :
http://brookingscarshow.org/
Admission Fee :
Registration Fee, $15
Car Shows
Attractions and Upcoming Events
Things to do near Brookings, SD