category : Museums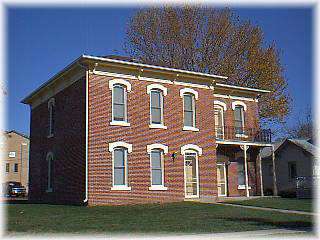 The Adam's House was built in 1882 by E.D. Ayers, a druggist in Ponca in the nineteenth century. In 1904, the house was purchased by Sam and Della Adams who had farmed in Silvercreek Township for several years prior to purchasing the house. In 1934, Sam Adams died and Della deeded the house to Floyd, her son, in 1939, and then the house sat vacant.
On May 17, 1976, after nearly 37 years of sitting empty, Floyd Adams deeded the house to the Ponca Historical Society. After putting on a new roof, the house continued to sit empty with the exception of being used as a "haunted house," until 1997 when renovation was made possible by a donation of Alfred and Gladys Scheffel.
The rooms are restored on the main floor as advised by Sam and Della Adams' grandaughter, Shirley, who provided drawings of how the rooms were furnished in the early 1900s. The upstairs holds a library, along with several other rooms featuring some of Ponca's history, along with surrounding interests.
Listed on the National Register of Historic Places, the home features two parlors on the main floor, a restored kitchen, a dining room, a bedroom and an open stairway to the second floor. The second floor has four bedrooms, storage room, and a restored bathroom with the original tub.

Hours: Hours: Open Memorial Day to Labor Day
Saturday and Sunday, 2:00 to 4:00 PM,
or by appointment.
Address: 421 3rd Street
Phone: 402-755-4165

Come visit us in Ponca, Nebraska