Annual Atlanta Dogwood Festival
Starting date:
Ending date:
Event# 404-817-6642
Event Details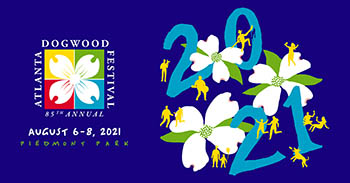 The annual Atlanta Dogwood Festival is BACK! Piedmont Park comes alive with fine art, live music, Mimosa 5k, international performances, high school art exhibition, disc dogs and more.
Enjoy the VIP Experience, complete with food and beverage tastings and a perfect view of the Coca-Cola Main Stage. Kick back in the Corona Light Beer Garden or stop to the Kids Village presented by Visit Tallahassee.

Due to financial constraints from the impact of COVID-19, the Atlanta Dogwood Festival is requesting a $5 donation at the gate. Those donating in advance will receive priority entrance into the festival.

Friday VIP Experience:
At Friday night's Baja Fish Tacos & Argentine BBQ event, the fighting spirit of the restaurant industry is celebrated as guests enjoy endless Corona and Modelo beer paired with sustainable fish tacos and an Argentine-style BBQ. Tickets are $65 and include select cocktails featuring Buffalo Trace Bourbon and red and white wines from two of Spain's most prestigious wine regions, Ribera del Duero and Rueda.

Saturday Mimosa 5K:
Following a course through the beautiful and historic Midtown neighborhood, the Atlanta Dogwood Festival Mimosa 5K welcomes runners and walkers to start festival Saturday off right. There will be a Mini-Mimosa 1K for participants 7 & under.
The morning race ends with an OJ & Cupcake Vineyards bubbly toast in Piedmont Park, after which registered runners can stay and enjoy the festival.
$40 Registration includes t-shirt and mimosa (participants age 21+).
Mini-Mosa 1K: $20 per person pre-registration, for ages 7 & under, following the 5K

Saturday VIP Experience:
Beauty & the Beasts is an experience filled with locally raised beef and heritage pork alongside sustainable seafood dishes like ceviche and poke. Tickets are $75 and include the chance to vote on Buffalo Trace's "Best of the Batched" bartender competition sporting a summer-time, cocktail-crushing theme. Guests will enjoy craft beers and wine pairings from two of Spain's most prestigious wine regions, Ribera del Duero and Rueda. A not-to-be-missed event.

Sunday VIP Experience:
This 2021 version of Peachfest is an epic peach event for foodies appreciating local farmers and chefs who support community-based agriculture. Tickets to this year's smaller adaptation of the successful event are $75 and include a menu of local plants and proteins paired with the state's signature fruit: the Georgia peach. Guests will enjoy peaches and meats grilled over all-natural charcoal from Royal Oak, plant-based bites and sweet nibbles from a handful of the South's notable tastemakers. Barkeeps will create hand-made, all-mighty peach cocktails featuring Buffalo Trace Bourbon, while wine professionals spotlight Spanish red and white wines of Ribera del Duero and Rueda. If you love peaches, this event is for you.

VIP Experience is in partnership with Taste Network and the official media partner is Explore Georgia.
Annual Atlanta Dogwood Festival
Address :
400 Park Drive NE
Atlanta
GA
Phone :
404-817-6642
(Always call and confirm events.)
Web:
dogwood.org/
Admission Fee :
$5 donation at the gate. Some events require tickets
Festivals
Attractions and Upcoming Events
Things to do near Atlanta, GA