Annual Page, AZ Tractor Pull & Antique Machine Show
Starting date:
Ending date:
Event# 928-645-3962
Event Details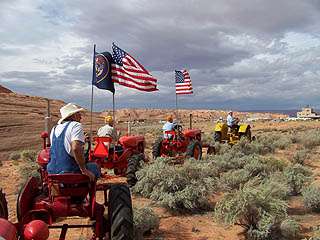 2 days full of tractor pulling, barrel train rides, demonstrations, displays of old iron, blacksmithing, and more laid against a spectacular background of desert cliffs at Vermillion Cliffs Arena, on the outskirts of Page, AZ. Sponsored by Page Antique Tractor and Machinery Club, EDGE&TA brandh 217. First full weekend in October.

Easy access to hotels, restaurants, RV parking and more. Other attractions you might want to stay around and enjoy, all within a few minutes of Page are Lake Powell and Rainbow Bridge, Glen Canyon Dam and Canyon River trip, Antelope Slot Canyon, Horseshoe Bend. Like the hub on a wheel we are also within easy day trip range of Flagstaff, the North and South Rims of the Grand Canyon, Monument Valley, Zion and Bryce Canyons and much more.
Annual Page, AZ Tractor Pull & Antique Machine Show
Address :
Vermillion Cliffs Arena, 501 Haul Road
Page
AZ
Phone :
928-645-3962
(Always call and confirm events.)
Fax :
815-642-0459
Web Address :
http://pagetractorpull.blogspot.com/
Admission Fee :
Free - donation jar available
Tractor Pulls
Attractions and Upcoming Events
Things to do near Page, AZ