Annual Rock the River for Hannah House
Starting date:

Event# 4797825683
Event Details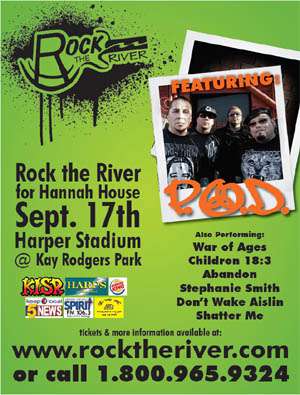 Highlights of the Day are as follows:

• Music Festival
With nine artists from various music genres, local and regional artists will take the stage at 11:00 am as they "rock for life" in order to raise money and awareness for Hannah House.

• Rock-a-thon
Groups and individuals from the community will kick back and raise money in style as they also "rock for life" in rocking chairs provided by Cracker Barrel.

• Food & Fun
Throughout the day there will be merchandise vendors, and lots of concessions for everyone to enjoy.

• Evening The night will end with an evening full of wonderful music from Shatter Me, Don't Wake Aislin, Stephanie Smith, Abandon, Children 18:3, War of Ages and National Recording Artist P.O.D. (Payable On Death).

Time: Gates open at 10:00 am; the first band plays at 11:00 am ending with National Recording Artist at 9:25 pm
Anticipated Crowd Size: 5,000 – 6,000
Annual Rock the River for Hannah House
Address :
Harper Stadium, Kay Rodgers Park, Fort Smith, AR
Fort Smith
AR
Phone :
4797825683
(Always call and confirm events.)
Fax :
4797825554
Web Address :
http://www.rocktheriver.com
Admission Fee :
Pre-sale $12, At the Door $15, Children 4-10 $5, Children 3 and under free; Meet & Greet $25 includes parking pass and program.
Music Festivals
Attractions and Upcoming Events
Things to do near Fort Smith, AR