Annual Slamily Reunion Car Show & Tattoo Expo
Starting date:
Ending date:
Event# 479-452-2626
Event Details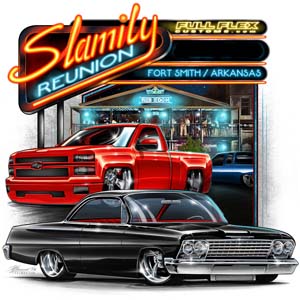 Arkansas' Largest Car Truck & Bike Show & Tattoo Expo! The Annual Slamily Reunion Car Truck & Bike Show returns to Fort Smith, Arkansas and we have added a huge indoor Tattoo Expo featuring Top Artists from all around the Nation. Come out and see what makes this show one of the fastest growing, family friendly, shows in the nation!

**NO OUTSIDE ALCOHOL ALLOWED IN SHOW GROUNDS**
Beer will be sold on location by vendors

SHOW LOCATION
Kay Rogers Park (Fairgrounds)
4400 Midland Blvd.
Fort Smith, Arkansas 72904
http://www.kayrodgerspark.org/

HOST HOTELS (must mention show for best rates!)

Holiday Inn City Center $89 per night (479) 783-1000
Hampton Inn $84 per night (479) 452-2000
Candelwood Suites $78 singles - $84 doubles (479) 424-3800
AmericInn $69 per night (479) 484-0227


Registration $40 (includes 2 weekend passes)
Goodie Bags to the first 200 entries

Friday early registration and optional drive thru judging 2pm-9pm
Saturday Registration 7am to 4pm (Judging at 9am)
Sunday Registration 9am to noon (Awards at 3pm)

Spectators $15 day pass or $20 weekend pass
Kids 12 and under are Free!
Saturday gates open to the public at 9am to 5pm
Sunday 9am to 3pm

Top 100 Awards - Top 10 Unfinished - Top 10 Bikes

Awesome Event Shirts
Kids Water Slide
Kids Bounce Around
Many Giveaways
Live DJ
Tattoo Contest
Kids Coloring Contest
Hot Wing Contest
Sweet Tea Chug
Kids Root Beer Chug
Early Bird Drive Thru Judging & Registration (Friday 2pm-9pm)
Big Vendors Row
50/50 Pot
On-site Beer Sales

The following Specialty Awards will be made by Distinct Fabrications, Art Busche Designs and more.
Best of Show - Best Truck - Best Mini Truck - Best Car - Best Bike - Best SUV
Best Unfinished - Best Rat Rod - Best Lifted - Best Engineered - Best Paint Car
Best Paint Truck - Best Graphics - Longest Distance - Best Interior Car
Best Interior Truck - Best Engine - Ladies Choice - Club Participation

Major Magazine Coverage by Truckin', Street Trucks, Minitruckin, Street Rodder and many more! The top DVD companies in the industry will be on hand filming.

Annual Slamily Reunion Car Show & Tattoo Expo
Address :
4400 Midland Blvd.
Fort Smith
AR
Phone :
479-452-2626
(Always call and confirm events.)
Fax :
479-452-3373
Web Address :
http://www.SlamilyReunion.com
Admission Fee :
$40 Registration (includes 2 weekend passes)
Car Shows
Attractions and Upcoming Events
Things to do near Fort Smith, AR