Arizona Art Alliance Holiday Show & Sale
Starting date:
Ending date:
Event# 602-870-7610
Event Details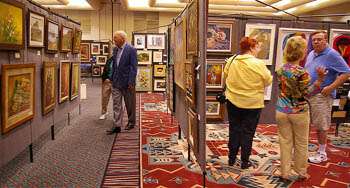 Over 100 juried artists exhibiting about 1000 pieces of art of all media, both 2- and 3-dimensional. Artwork for sale at affordable prices. Artists available to discuss their artwork with visitors/buyers.

Proceeds from the gallery sales fund the Alliance's Community Outreach Programs, benefiting youth at risk, disabled and Alzheimer's seniors, and physically and mentally challenged students.
Arizona Art Alliance Holiday Show & Sale
Address :
Alliance Gallery, Scottsdale Pavilions (next to Sports Authority)
Scottsdale
AZ
Phone :
602-870-7610
(Always call and confirm events.)
Web Address :
http://www.azartalliance.com
Art Shows
Attractions and Upcoming Events
Things to do near Scottsdale, AZ