category : Recreation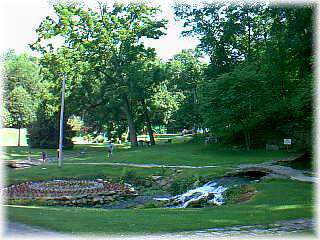 One of the most photographic scenes in Neosho and a popular wedding site is Big Spring Park. The park features beautiful gardens, picnic tables, a floral clock, and a children's wading pool and playground. It flows with springs streaming by six rose gardens and a trout pond where all can enjoy feeding the fish.
Big Spring Park, once the site of Indian trading grounds, has the Big Spring with an average daily flow of 891,000 gallons of water.
Located three blocks west of the town square, and just across the street from the Neosho Parks and Recreation Department, the park is renowned nationwide for its beauty.

Admission: None
Address: 308 West Spring Street
Phone: 417-451-8090

Come visit us in Neosho, Missouri