category : Arts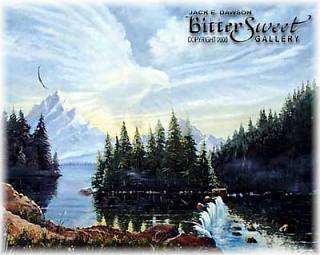 Jack E. Dawson is an artist who has been in the art field for over 30 years. He has used many different media in his artwork including oil, watercolor, acrylic, sculptures and chalk.
Some of his most notable works include:
Praying Hands Statue - 32 - foot tall concrete and steel structure located in King Jack Park, Webb City, Missouri.
Kneeling Miner Statue - Tribute to the mining industry located in Webb City, Missouri.
Webb City Bank Mural - historical mural of Southwest Missouri
Print entitled "Peace in the Midst of the Storm"
Remarque Namesake Collection of limited edition watercolor prints personalized by the artist.
Silver Dollar City - Fall Festival Watercolor Artist.
Actively presents Biblical messages through his Chalk Art Ministry.
Featured artist in Missouri Life Magazine.
Over the last few years, Jack has been impressed to create a series of paintings with hidden images or messages in them. He has entitled this collection the "Seek and Find Series."

Address: P.O. Box 345, Webb City, Missouri 64870
Our Email: info@bittersweetgallery.com
Our Website:www.bittersweetgallery.com/

Come visit us in Webb City, Missouri