Blue Springs, Nebraska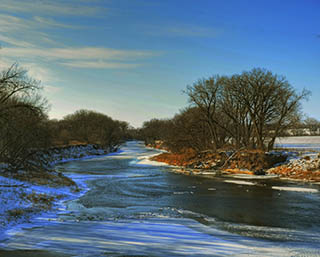 Indians called this place "Blue Springs" for the healing waters that bubbled from the ground said to be "... a generous amount of the purest water the year around."
The settlers at Blue Springs "challenged the right of people of Beatrice to organize a county government," and despite the fact that they were nearer the center of what was then a 24-square-mile Gage County, they lost in their efforts to the "stronger politicians" in that city. Even so, the people at Blue Springs found many opportunities to build up their settlement, on the much-travelled road from Marysville, Kansas, to Beatrice. Incorporation papers were filed in 1857.
A Methodist cemetery, founded in 1860, was used by all denominations. Part of what is now the Blue Springs Cemetery, it is thought to be the oldest "recorded cemetery" in Nebraska.
Today, Blue Springs supports a population of about 275 and is still very much "its own town," reflecting the high standards set by its pioneer citizens. Visit the museum that is housed in the 165 year old historic log cabin built by one of the first settlers. The Annual Car Show held in August draws crowds of enthusiasts to this proud community.