category : Arts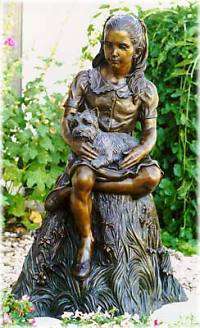 Somewhere between the power of Michelangelo and the passion of Rodin, shine the contemporary American sculptures of S. L. Jonson. Her bronzes will undoubtedly outlive her in the annals of fine art. Enjoy this rare opportunity to see the qualities of classical sculpture in the works of modern-day artists. Sondra L. Jonson resides in Cambridge where she can find inspiration amid the quiet, rural setting in central Nebraska.
With a renowned scultptor in residence, Cambridge and the surrounding areas have benefited from her beautiful creations. "Daydreams,"a young girl sitting on a tree stump with lilies all around her and her Scottie dog on her lap, is a life size bronze at 45" high, is located at McKinley Park at Cambridge. Just a few miles east at Hwy. 6 &34, in Arapahoe, on the grounds of the Our Lady of Fatima Shrine, "Rachel Weeping for Her Children," is an interpretation of the biblical text: Jeremiah 31:15 - 17. "Rachel Weeping for Her Children" is also a life size bronze at 4 ft. high.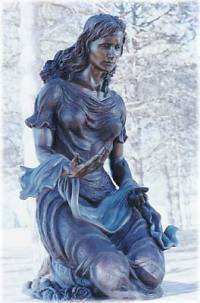 Jonson was born in Philadelphia, Pennsylvania, and studied at the Philadelphia College of Art, the Pennsylvania Academy of Fine Arts, the Centro de Estudios Hispanicos (in Madrid, Spain), and graduated, Magna Cum Laude, from Bryn Mawr College and the Frudakis Academy of Art.
As a professional sculptor, Ms. Jonson has established her reputation as a master of human figure and portraiture. Her sculptures always display skillful craftsmanship while looking deeply into the human story. She has competed and placed in national and international competitions, including the Oklahoma City Memorial Competition, and has sold Bronzes to collectors across the United States and in Europe.

Our Website:www.sljonsonstudios.com

Come visit us in Cambridge, Nebraska