category : Historic Courthouses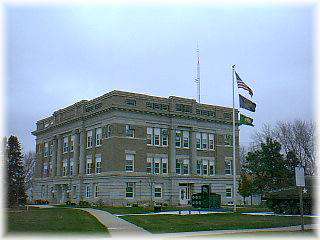 Built in the Beaux Arts style the Burt County Courthouse was completed in 1917, and is listed on the National Register of Historic Places. The four-story building measures 65 feet by 85 feet and features massive columns on three sides of the exterior. Inside, a two-story well highlights a mosaic tile seal of the "great State of Nebraska." Interior treatment also includes marble wainscoting, ceramic tile, ornate plaster details, and wrought iron stair railings.
Burt County was established in 1854. That same year, a group of settlers established what is present-day
Tekamah. The following year Tekamah was named the county seat. From 1857 to 1867 a small two-story log
blockhouse doubled as the first courthouse. A second courthouse was used until the construction of the present
building. Plans for the new building dated from 1913. In 1914 the county residents voted to accept a tax levy to
finance the construction of the new courthouse. No further action appears to have occurred until 1916 when
construction began.

Address: 13th Street between M and N Streets

Come visit us in Tekamah, Nebraska