category : Museums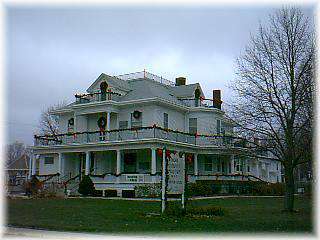 The Burt County Museum is located in the E.C. Houston House built for Emsley Clinton Houston. Houston was the owner and founder of the
Houston Lumber Company in Tekamah and also served as vice president of the First National Bank of
Tekamah for over twenty years. He was elected mayor of Tekamah in 1893 and was a state senator in 1919.
Listed on the National Register of Historic Places,
the large frame house constructed in 1904-5 incorporates Neo-Classical Revival details in its porches, door
and window openings, and cornices. The most distinctive part of the dwelling is the prominent porch, which has
a wooden railing on the first level and wrought iron railing on the second and attic stories.
The interior of the fourteen-room house remains much as it was with beautiful cut-glass windows in the reception room, above the stair landing, and in the parlor. The parlor features a bay window and a large fireplace. During a recent restoration project, the 1904 light fixtures and mirror above the fireplace were returned to their original places. The foyer, beautiful open stairway to the upper floors, parlor and formal dining room with butler's pantry are connected by a central hallway.
On the second floor is a sitting room, child's bedroom, master bedroom, military room dedicated to the honor of Burt County service personnel and the maid's room, currently used for Burt Country history and genealogy.
The third floor was the former ballroom and is now used for special displays, including an oil painting of the Last Supper, painted in the late 1600s or early 1700s and an 1880 toy "magic lantern" used to project special slides.
The full basement has four rooms featuring 1) an old-fashioned kitchen, 2) tools and implements used on early day Burt County farms, 3) early day laundry items, 4) a "Professional Room," with photos and artifacts from local businesses and professional people.
The visitors will also enjoy the Country Schoolhouse and the C.D. Houston House, used as the Museum Annex, which is to the east of the main museum. This house was built around 1906. The two Houston men were brothers. Special displays are featured there.
The museum grounds are beautifully landscaped featuring early Tekamah streetlights, and old-fashioned gazebo, a lighted flagpole and the 1910, Folsom Park Bridge. A sidewalk on the north side of the schoolhouse uses bricks from the old main street in downtown Tekamah.

Admission: Free Admission, Donations Appreciated
Hours: HOURS: Year Round, Tuesday, Thursday, and Saturday, 1:00 to 5:00 p.m.
Address: On Highway 75 at 319 North 13th St.
Phone: (402) 374-1505

Group Tours Welcomed by Appointment
For more information write: Burt County Museum
PO Box 125
Tekamah, NE 68061
or call 402-374-1505
Come visit us in Tekamah, Nebraska