Celebration of Freedom
Starting date:
Ending date:
Event# 580/726-5900
Event Details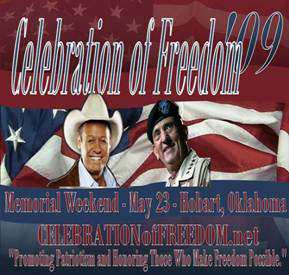 Southwest Oklahoma's premier Memorial Weekend Event the "CELEBRATION OF FREEDOM" is headed to the BIG TOP.

General Tommy Franks Leadership Institute and Museum along with the Hobart Community will hold its Annual Celebration of Freedom. Southwest Oklahoma's premier Memorial Weekend event is headed to the BIG TOP. A celebration with 3 stages featuring a variety of FREE concerts. Complete with a "Battle of the Bands" and "Southwest Oklahoma's Got Talent", this event provides an opportunity for everyone to join in. Patriotism is our way of life and our brave men and women in uniform will be honored as a part of each and every concert.

Hobart's first annual BBQ Cook-Off is sure to delight your palette, and a variety of activities for children will keep your family hopping. Our new approach to the weekend expands the number of FREE concerts, events, and the number of veterans honored. The events you have come to love will continue with the Patriot Parade, Wild Hog Fly-In, Motorcycle Poker Run, Oklahoma's Largest Silent Auction, and downtown festivities all weekend long.

The highlight of the weekend will be an intimate concert under the BIG TOP.
Celebration of Freedom
Address :
Tommy Franks Leadership Institute 507 S Main
Hobart
OK
Phone :
580/726-5900
(Always call and confirm events.)
Fax :
580/72605901
Web Address :
http://www.celebrationoffreedom.com
Festivals