category : Ethnic Heritage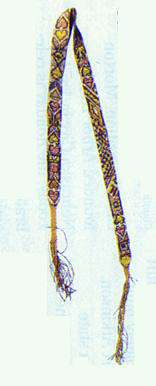 Crazy Horse was the English name of the great Oglala Sioux war chief, Tasunka Witko. Hailed as a brilliant military strategist and ferocious warrior, Crazy Horse and his followers refused to submit to life on reservations. Consequently, Generals George Crook, Alfred Terry, and George Custer were charged to hunt them down. At Little Big Horn in June 1876, Crazy Horse and his people were key players in the annihilation of five companies of Custer's 7th Cavalry. To resist capture and retaliation following Custer's defeat, the Sioux scattered in small bands.
In September of 1877, Crazy Horse agreed to go to Fort Robinson for talks with the military. When it became clear he was being led to a guardhouse instead of a negotiations table, he struggled to free himself. He was bayoneted for "resisting arrest" and subsequently died of his wounds. A stone marker outside the guardhouse, often adorned with offerings of tobacco ties and bundles of sage left by visitors, bears silent witness to the great chief's life and violent death at the age of thirty-five. Fort Robinson, near Crawford, Nebraska, is now a state park featuring historical and paleontological museums.

Address: Fort Robinson Museum
Phone: 308-665-2919

Come visit us in Crawford, Nebraska