category : Recreation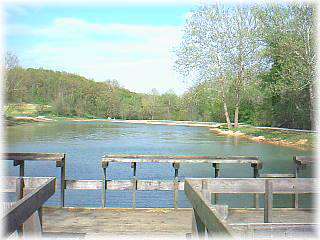 Williams Creek Park and the "Spirit of 76" Recreation Complex - Mt. Vernon's largest and newest park is the "Spirit of 76" Recreational Park Complex. The complex features an Olympic-size swimming pool, four baseball fields, tennis courts and a Mightly Mite football field. Williams Creek Park just north of the complex has a pond which is stocked with fish and hiking trails with various types of marked vegetation that meanders around the park. The fishing piers are handicap accessible and picnic tables are available.
Located across Williams Creek on East Main
Gibbs Park - The Depression era brought with it several Federal programs to provide meaningful work for young men in the form of public works projects. The CCC had a military-style camp just west of Spring Park Boulevard, and from there scores of uniformed workers built such things as the Chesapeake Fish Hatchery just east of Mt. Vernon on Highway 174. They also built the open-air arena just off the southwest corner of the Mt. Vernon square. Gibbs Park was named for the family that donated the land for a perpetual park for the people.
Southwest Corner of the Square on Market Street
Wynne Park - Located on the business loop adjacent to the Chamber of Commerce Visitor Center and restored Frisco caboose, Wynne Park provides playground equipment, picnicking and is the site of Mt. Vernon's Veterans Memorial.
East Mt. Vernon Blvd.
Gary Ewing Park - Nestled in big shade trees, this is a perfect spot for family and community gatherings. Lots of playground equipment for the kids, park benches to rest on, and a covered pavilion are a located at the park.
Located on East Center Street
Come visit us in Mt. Vernon, Missouri