Cottonwood Falls, Kansas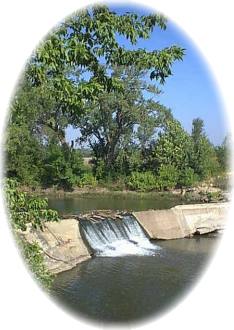 In 1856 three families arrived and settled on the south bank of the Cottonwood River near a site which overlooked a fall in the river. This site was to become the city of Cottonwood Falls. In 1859 Chase County boundaries were redefined and Cottonwood Falls was designated as the county seat.
Prospects for Cottonwood received an early setback when it was bypassed by the Santa Fe Railroad in 1871. The depot, located 2 miles North was first called Cottonwood, but in 1881, it and the community which grew up around it were named Strong City.
This "twin city" situation led to one of the states first interurban systems. Horse car service between the two towns began in 1887 and this courthouse square was the southern terminus of the 2-mile railroad. In 1918 the company converted to gasoline-powered motor cars, but the track that served well for horse cars could not handle the heavier and faster equipment. Improved technology in this instance only created difficulty, and in 1919 the interurban ceased operations.