Curtis Easter Pageant
Starting date:

Event# 308-367-8398
Event Details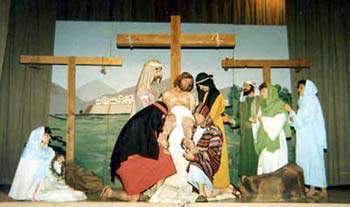 A Curtis community member quotes, "The pageant is the Curtis area's gift to Nebraska because, without Easter, Christmas would be just another day." The first community Easter Pageant was held April 4, 1958. It has evolved to the "Living Pictures" format with narration to establish the mood and background of each scene and its accompanying community choir.

The pageant includes 17 scenes of familiar events, famous paintings, and statuary. This touching 3-dimensional living picture pageant presentation includes authentic-type costumes, such as, the crown of thorns used in the production comes from an original Crown of Thorns plant in Mexico, and the helmet, chest plate and leather protector portion of the Roman Soldier uniforms were acquired from MGM Productions and were used in the movies Ben Hur, Julius Caesar and Quo Vadis. Dramatic lighting, motionless poises by a 65-member cast (including children), and a 50-member choir complete this remarkable production. Held on Palm Sunday.
Curtis Easter Pageant
Address :
Curtis High School Gymnasium
Curtis
NE
Phone :
308-367-8398
(Always call and confirm events.)
Dramas