category : Tours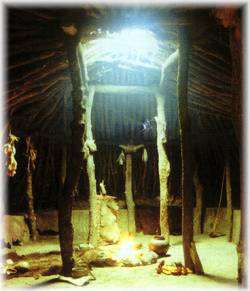 One thousand years ago in Southwest Nebraska, there lived small groups of Native
Americans known to archeologists as the Upper Republican Culture. These farming
people were probably ancestors to the Pawnee Tribe. Some may feel their way
of life was harsh, but their ability to live as one with nature gave them a
spiritual outlook on life that few have ever experienced. It is in a setting
of rolling prairie hills along the banks of Medicine Creek that Dancing Leaf
has tried to recapture a feeling of closeness to nature and inner strength that
can best be experienced through the simple way of life.
Dancing Leaf Cultural Learning Center offers a unique blend of educational
and recreational opportunities. An earthen lodge from the time period of 800
- 1300 years ago has been reconstructed. Four-hundred man hours go into the
construction of these earthen structures. Native trees are set in holes dug
in the excavated living floor to provide main support for the over 200 rafter
poles which support Sandbar Willows and Prairie Hay which is then covered with
earth. These igloo shaped structures provide cool refuge from the summer heat
and warm dry shelter from the winter wind and snow. A central fire hearth with
a smoke hole overhead is the heart of these cozy homes.
A tour of this and other archaeological information and artifacts is covered
in a 90-minute daily tour. Dancing Leaf is located on 115 acres of cedar covered
canyons along the Medicine Creek and includes a spring fed lake, many scenic
trails and natural springs.

Admission: 90-min Daily Tours: Adults $7, Children $5
Hours: Tours Daily 9am & 2 pm
Memorial weekend thru Labor Day
Address: 25 miles S. to Wellfleet, then 2 mi. E. at railroad tracks on Opal Spring Road
Phone: (308) 963-4233
Available Year Around by Reservation
Other tours and overnight accommodations available (Reservations Required)
Come visit us in North Platte, Nebraska